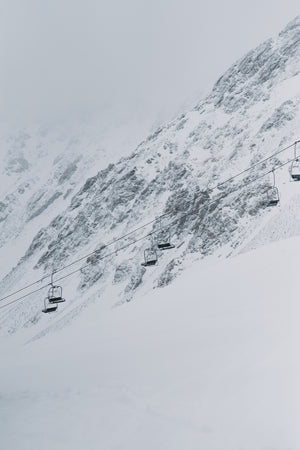 Chairlifts in the Snow
Transform your space into a winter wonderland with chairlifts: real or prints. This professional photo captures the serene beauty of the mountain landscape, where the chairs sit silently in a snow storm. The stark contrast of the cold, crisp snow and the bold structures of the chairlifts creates a visually striking composition. Elevate your surroundings with the timeless allure of snowy chairlifts and bring the spirit of the slopes into your home.
Seat Styles
All wood is hand selected for its superior cut and unique grain/texture by Ski Lift Designs craftsman. We then go through a process of milling, sanding, and finishing each seat with 3x coats of all purpose marine varnish to ensure durability that'll stand the test of time.
---
 

White Oak Wood

Straight-grained with a classic coarse texture that is popular with consumers. White Oak's color ranges from light brown to a rich blond. Selected for its superior performance in outdoor environments, White Oak will stand up to the harshest sun or winter storm.
 

Brazilian Ipe Wood

From rich red to reddish brown, Brazilian Ipe's  unique color is a great compliment to any ski lift. Uniform grain produces a smooth satin finish which is complimented by growth knots and natural dark pitch specks. Brazilian Ipe is a high density hardwood supplying superior outdoor rot resistance with the highest range of durability. 
 

Walnut Wood

Walnut ranges from a lighter pale brown to a dark chocolate brown with darker brown streaks. Color can sometimes have grey, purple, or reddish highlights adding unmatched character. Fine grain results in a smooth finish and natural luster. Walnut is a medium-high density hardwood with a tight grain structure. Less impact resistant than White Oak, but more resistant that Cherry. 

Metal

Metal seats draws attention to the industrial aspects of the chair,  while maintaining a clean, minimalist look for any setting. UV protection oxidation resistance offered by the powder coat keeps your chair color bright no matter how long it is exposed to the elements. 
Colors
Our powder-coat process ensures an evenly balanced and rich finish on every chair. The following colors are available as standard options though we're happy to work on a specific color. Simply contact us to learn more.
Arctic White
Midnight
Hunter Green
Mojave Yellow
Royal Blue
Cardinal Red
Slate Gray
Burnt Orange
Installation Kits
We offer 4 standard installation kits that range from versatility to an authentic ski chair feel and everything in between. Each installation kit comes with comprehensive installation instructions which you can find our Help Center.
---
 

Standard Ceiling Mount

The Standard Ceiling Mount is the perfect mount when you have a dedicated space that requires less lateral movement. The mount hangs from a plate that's bolted into your ceiling.
Swivel Ceiling Mount

The Swivel Ceiling Mount is perfect for spaces where you might want to change which direction faces forward. The mount hangs from a plate that's bolted into your ceiling offering a 360 swivel experience.
Cable Grab Ceiling Mount

The Cable Grab Ceiling Mount offers the most authentic ski lift experience mimicking the installation you find on most lifts still today. This mount hangs from a secured rod that's connected to two plates bolted into your ceiling. 
Bench Style

The Bench Style is our most versatile chair capable of filling any space with a rustic, wintery piece. This mount comes standard without the frame and stands on 4 legs angled to the floor. 
Reviews